News
The first million tonne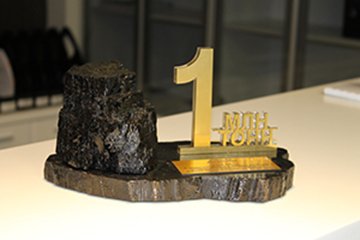 On the 2nd of May 2017 the Yubileynaya mine extracted the FIRST MILLION TONNE OF COAL since the output started in February 2016.
The event has a great both as for the mine and for the whole TopProm Holding. The mine brought new opportunities to TopProm and opened new horizons for its future.

At the meeting dedicated to the event the General Director of TopProm JSC Vladimir Chestneyshin thanked the mine's personnel for their commitment in gaining the first of the most vital objectives and awarded the workers of the mining site No. 1 with diplomas and prizes.
Besides, we awarded our contractor's tunneling brigade for their significant contribution to the preparation of the working face, lining and mine tunneling.