The Shchedrukhinskaya CPP is a new-generation coal preparation plant producing the best clean coal in Kuzbass. The company's development plans involve further growth of production capacities aiming to meet the ever-increasing demand for clean coal.
The Shchedrukhinskaya coal preparation plant
commenced operation in August 2009
The applied technology enables cleaning of steam and coking coals with easy, medium and difficult washability characteristics. The plant is fitted with modern and hi-tech equipment.
The production process is controlled by a computerized system: every stage of the coal preparation process is displayed on the monitors and an operator can swiftly adjust it where necessary.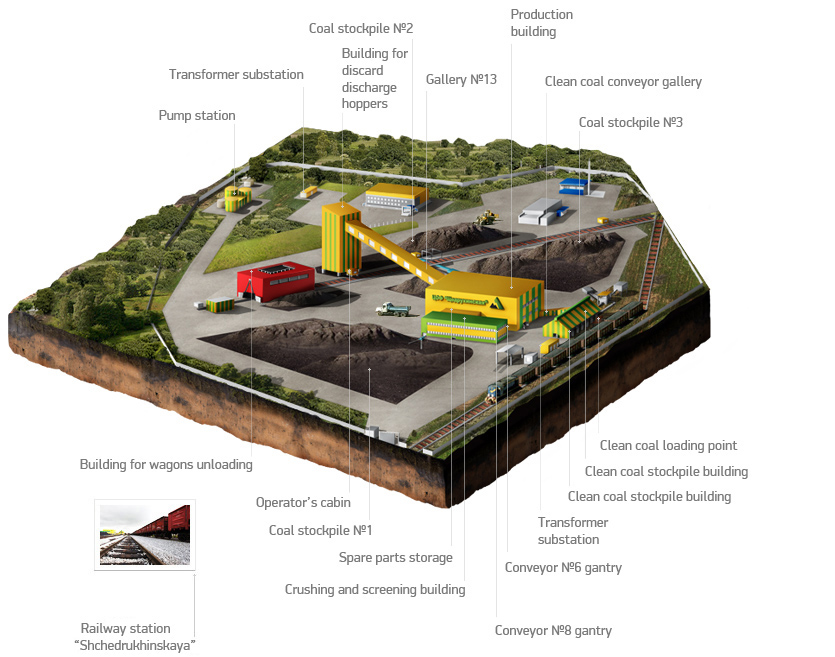 Washing technology specifics and
technical capabilities:
A modern automated production control system
A closed water-slurry circuit - and no need for water development facilities therefore
No coal thermal drying used, which precludes atmosphere pollution
A licensed chemical analysis laboratory to control the clean coal quality
An automated stockpile building for clean coal
Carrying out measures aimed to prevent coal from sticking and to retain clean coal flowability at negative temperatures - treatment of wagons with special substances prior to loading
A capability to accept and discharge up to 100 open-top wagons per day
A capability to compress clean coal in wagons to reduce losses during transportation
Logistics
The total mileage of non-public railway tracks owned by TopProm JSC (the Shchedrukhinskaya railway station) makes up 9,736 m. In future TopProm plans to build a second loading complex, which is to make the loading processes faster and consequently to increase the plant's production capacity.
Development
The TopProm Holding management team has plans to upgrade the plant and to create the first mining-and-processing complex, comprising the Shchedrukhinskaya plant and the Yubileynaya mine located 800 meters apart.